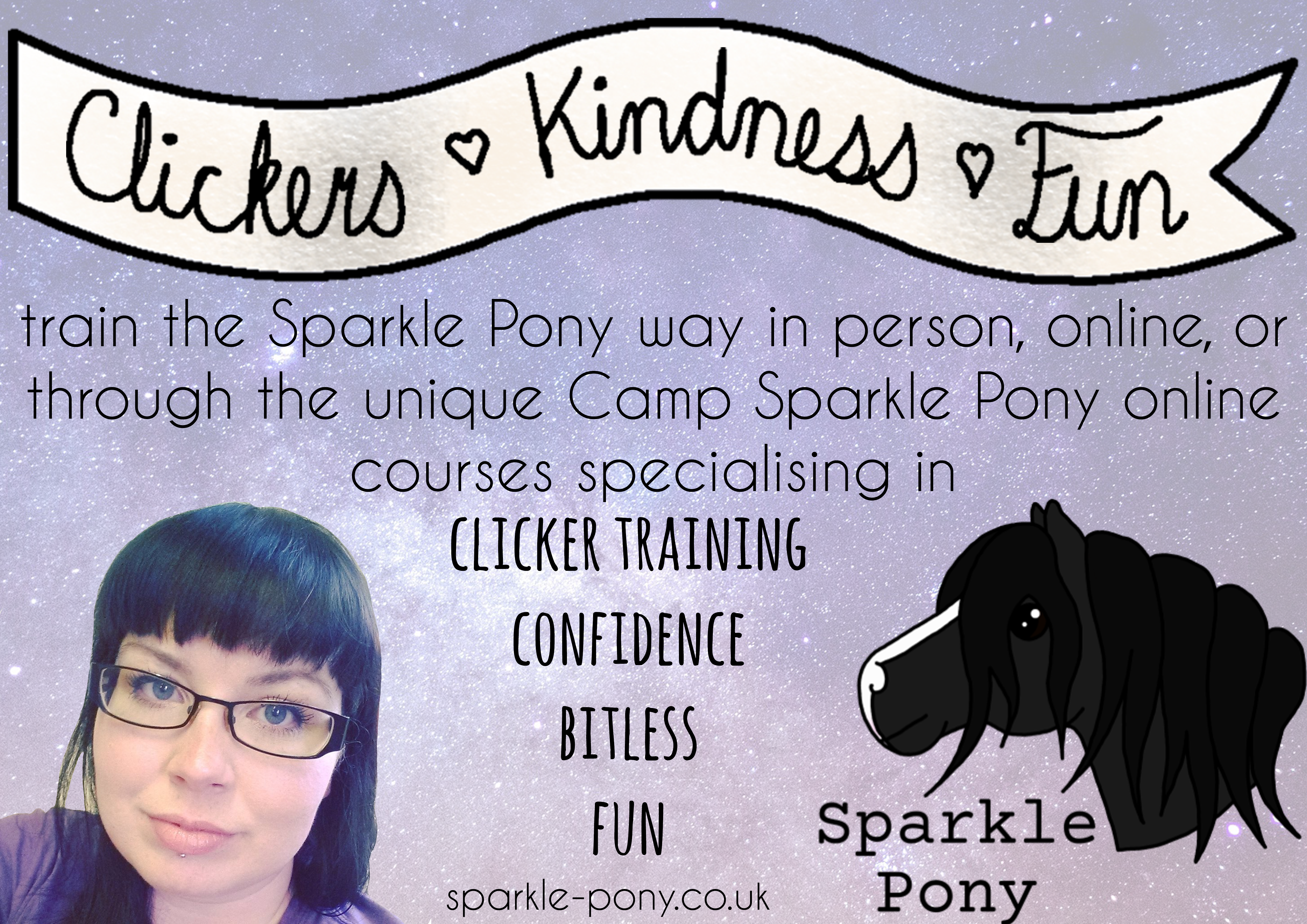 I'm Sadie, and I'm based in Northamptonshire, UK, and this is Sparkle pony – the place for clickers, kindness, and fun! I specialise in clicker training, bitless, and confidence, and will always find a way to make something fun. I offer face-to-face sessions locally, online coaching, and online pony camps.
I've had horses of my own for the last ten years or so, but I've been riding for as long as I can remember! I have three ponies – Ody, Elmo, and LP (Little Pony). Ody is my black traditional cob, Elmo is my little piebald cob, and LP is some kind of 10hh British Spotted Pony type. You will often see them in my drawings and videos – they're full of character! Marshmallow joined our herd in early 2019. He is on loan from a close friend, and is an unbacked baby.
My "other job" is teaching music. There are many similarities in teaching people to play instruments, and people to play with their ponies – it's fascinating! It has also given me a great foundation in building confidence in both humans and horses. I love anything creative, particularly including art and writing, and will happily give anything new a try!
I am a para rider – meaning that I have a disability. I have worked extremely hard to ensure that I can continue to enjoy my ponies with special equipment, tack, and training. I have Ehlers Danlos Syndrome, which has effects on every part of my body, but when I ride my ponies, I'm free! Ody was bought as a three-year-old, and backed by a dear friend for me, and he adapted beautifully to his life as a para pony. He looks after me at every step, and he's my four-legged best buddy.

I specialise in confidence-building and clicker training, whilst ensuring that it's fun for both pony and person. I use LIMA principles (Least Invasive, Minimally Aversive) and both of my ridden ponies are bitless. I have quite a collection of bitless bridles and attachments that I am happy to advise on the fit and use of, but my absolute favourite is the Transcend Bitless Bridle. I was lucky enough to receive sponsorship from Transcend in 2018, and I work closely with Sue (inventor and owner of Transcend) to help people on their bitless journey. 
I believe that all horses can be trained with positive reinforcement and that all horses can go bitless. My ponies lead a healthy lifestyle, with all my decisions based on science and what fits best for them. They are all barefoot, bitless, treeless, clicker trained, eat a carefully considered diet, and live out 24/7 (nearly always without rugs, too!). I love to learn and am constantly researching in the hope of improving my understanding as well as my ponies happiness.
Above all, I believe that our ponies are our friends, and we should treat them as friends. We must learn to work together as a team rather than demanding control, and I'm here to do my best to help and support people on their journey towards friendship.