Feeding can be a nightmare! There is so much information out there, it's difficult to know who to follow, and with all the clever marketing done by feed companies, it's difficult to know who's telling the truth.
I love feed, and I have picked up so much knowledge over the years that I began to mix my own balancers. It works out so much cheaper, and I know that it contains no nasties, no fillers – just the good stuff! After sharing a video on the Sparkle Pony Facebook, I was inundated by people asking for advice on how to make their own balancer, and so the Horse Feed Geek service was born!
What We Do
We take the information you supply us with and carefully come up with a balanced diet based on your ponies needs. Then we produce a recipe sheet for you to create your balancer from. Each recipe makes approx one 30-day supply.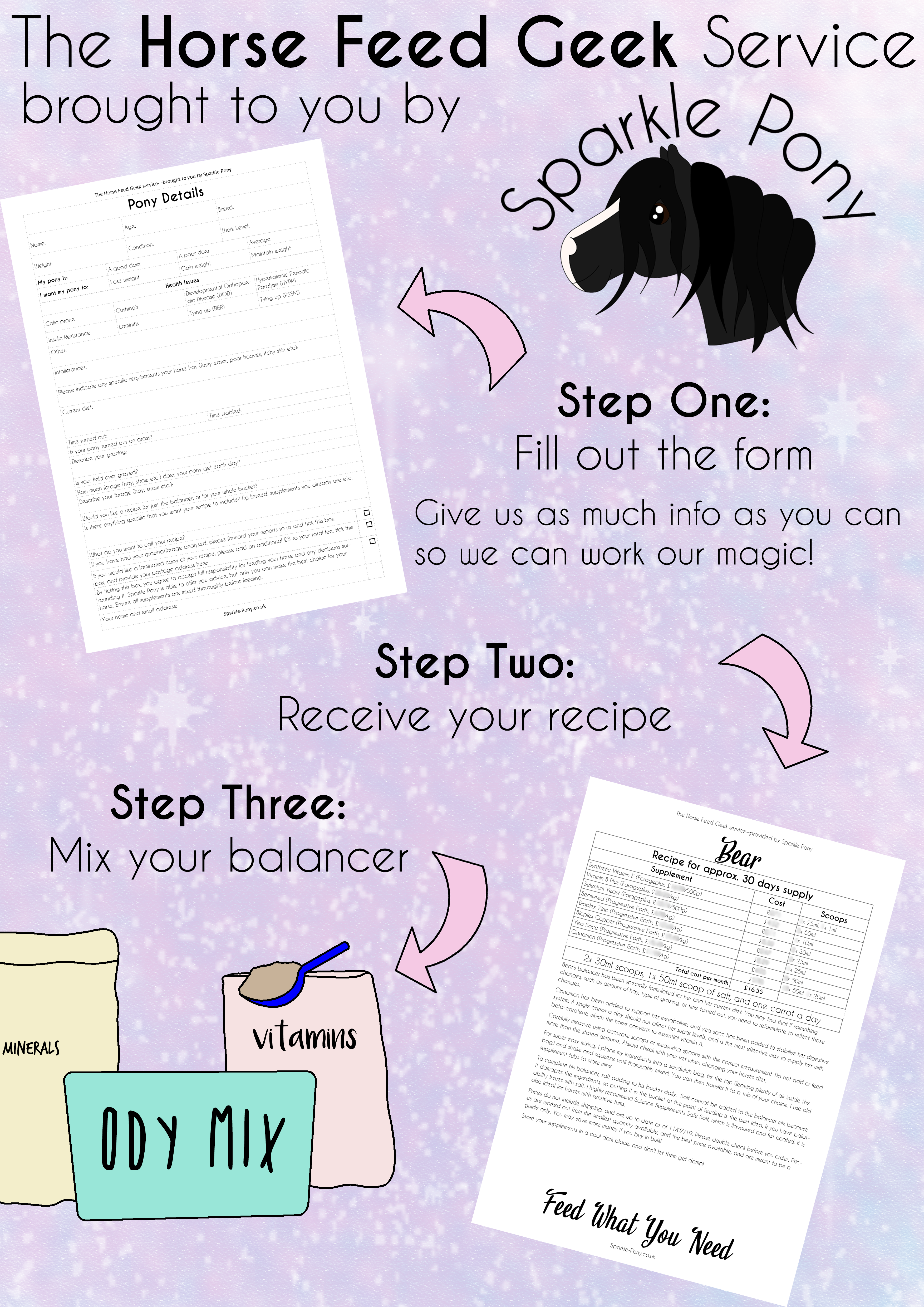 You Will Need…
to fill out the Horse Feed Geek form (one for every diet required)
a set of measuring spoons (easily obtained from places like pound shops)
a tub for your supplement (reuse old supplement tubs – be green!)
to buy your ingredients (we give you suggestions to help you)
a few minutes each month to mix your balancer (we recommend mixing one month at a time)
What You Get
You will receive a recipe for a 30-supply of your homemade balancer, carefully tailored to your ponies needs. They come on a sheet which looks like this:

(please note, the quantities and prices have been blurred out because each recipe is unique to your horse. Each recipe should only be used for the horse it is intended for.)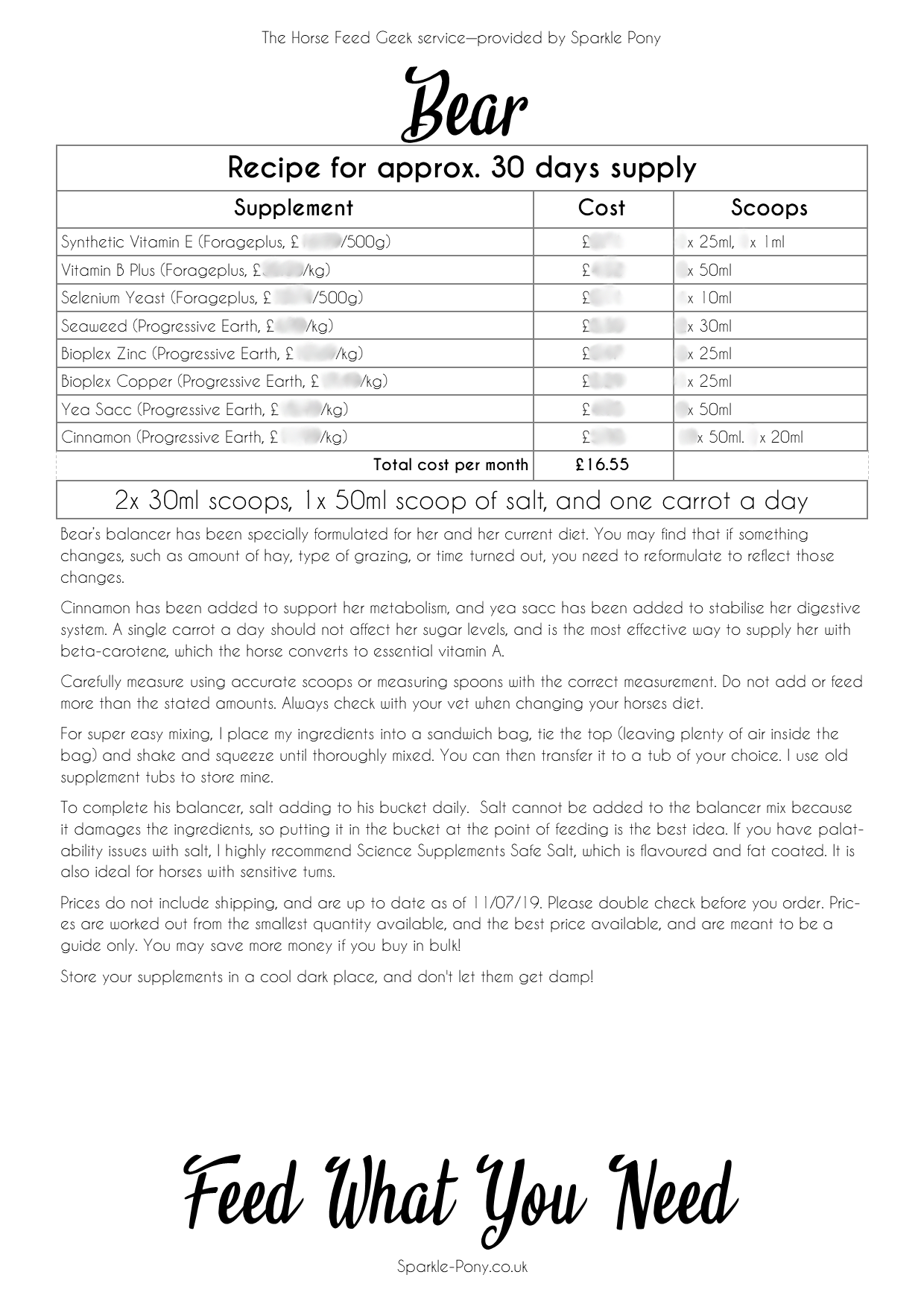 How Many Recipes Do I Need?
If your horse has the same routine year-round, they will likely only need one recipe. There are some circumstances where you may need more than one recipe though, such as:
Different winter/summer routines. If your pony is in overnight during the winter, and our 24/7 in summer, they should have a recipe for each half of the year. If your pony is out 24/7, but in winter they are fed hay to supplement their grazing, they would also benefit from having separate summer and winter recipes.
Change in workload. If your pony was in hard work, then has to have a period of more than a short while off, it might be beneficial to change their diet accordingly. Performance supplements are often a little more expensive than the diets of ponies at rest, and equally, if your pony ups their workload, they may need a different set of nutrients to support them.
Illness or injury. If your pony is diagnosed with a condition such as laminitis, or sustains an injury that needs long term management, it may be beneficial to discuss any dietary changes required. You may just need a slight tweak, or you may need a separate recipe, depending on the nature of the illness/injury.
Change of feed. If you change your ponies base feed for any reason, it is important to get your formula checked. Different feeds have different nutritional profiles, and a balancer needs to match up with your feed to provide a complete diet.
How Much Does It Cost?
Each recipe costs only £20.00.
We offer a laminated printout for UK customers for £3.00. If you live outside the UK, please contact us for the price of a laminated printout. These are handy for keeping in tack rooms as they resist the damp and any spillages much better than a piece of paper!
How To Order
Fill out the form and return it to mail@sparkle-pony.co.uk along with payment of £20.00 via PayPal. Our PayPal address is the same – mail@sparkle-pony.co.uk
The form is a PDF, and you can fill it out digitally (using a PDF editor) or you can print it and fill in with pen, then scan or take a photo to return to us.
Don't forget to let us know if you have any more information not covered by the form, or if you have any specific requests.
If you have your forage or grazing analysed, please attach your data to the same email as your form when returning it.